Renowned specialists in hair grafts in Alicante.
Your hair transplant clinic in Alicante
A hair transplant is not just about your physical appearance, it's more than just a change in your hair. These types of treatments influence your self-esteem, your confidence and even your wellbeing and quality of life. That is why you should rely on a trustworthy hair transplant clinic in Alicante and have the security of knowing that you are in professional hands.
At the Alicante Hair Institute we have a team of experts and specialists in hair treatments, such as Doctor Vanesa Pérez. Because of our experience, we are one of the most qualified hair graft clinics in the Alicante area. By choosing us, you will have the best professionals at your disposal during the procedure.
Capillary Institute of Alicante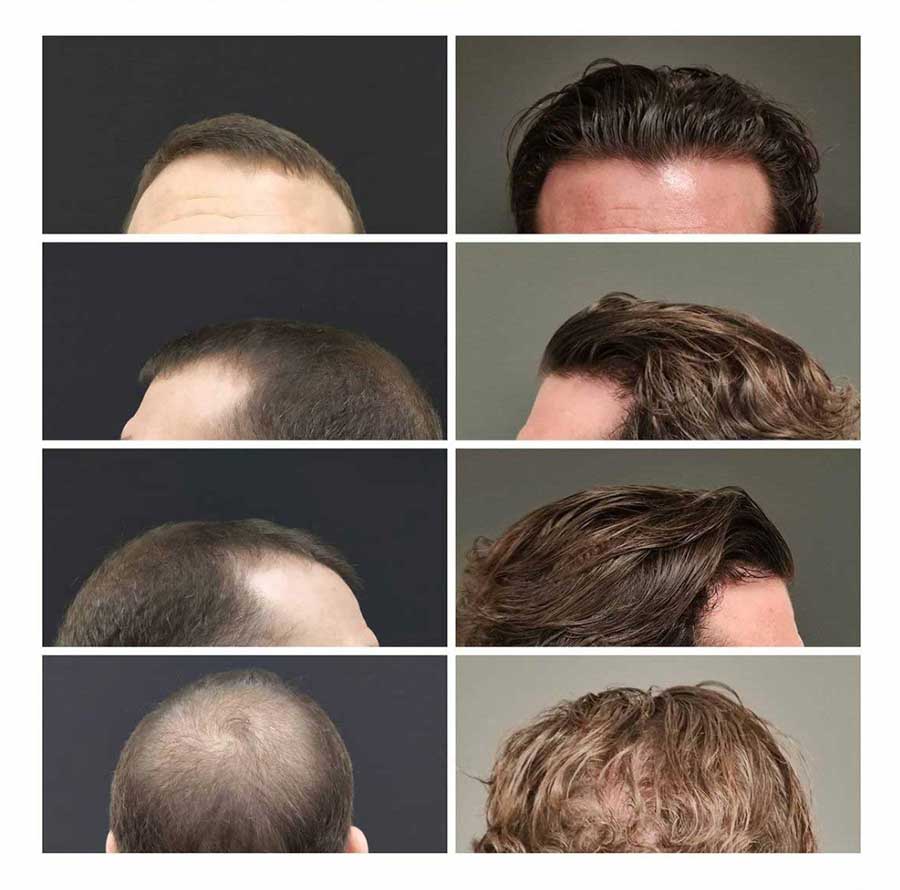 Enjoy the benefits of a hair transplant in Alicante
Each person has different reasons for deciding to undergo a hair graft procedure in Alicante. However, in every case, there are many questions and uncertainties before doing so. But once you manage to find a suitable hair graft clinic in Alicante all that is left is to do is enjoy the benefits of this type of medical and aesthetic treatment.
A hair transplant in Alicante is beneficial for those who have suffered from alopecia or who have gone through a chronic illness. It is an external change that increases your sense of security and self-esteem, as it improves the way in which you view your appearance. The hair also acts as protection from external factors, such as the cold or the sun.
If you are considering having a hair transplant, we invite you to have your first consultation, where we will make an assessment and provide you with a completely personalised proposal. In this way, we will identify your needs and create a plan for your treatment. You can be secure in the knowledge that you will receive a friendly and personal service with magnificent results. In addition, we will be at your disposal throughout the whole process to clarify any questions you may have.
We adapt to the characteristics and needs of our patients.
Pedro Sempere
La verdad es que después de un año y del inmejorable trato recibido, no cabe más que dar las gracias por el trabajo que hacéis, seguir así que es estupendo que el mundo existan profesinales como vosotras.
Laura MT
La Dra. Perez nos atendió y explicó todo de una manera exquista. Los resultados estan siendo maravillosos. Muy contentos
Vicente Javier Esparza Martínez
Muy buen trabajo de la doctora Vanesa con un equipo excepcional.

Da gusto estar en buenas manos. Grandes profesionales a un precio muy razonable
Alondra Coppiano
El equipo muy profesional y atento. Te explican todo de una forma que uno puede entender muy bien.Te dicen el diagnóstico y el tratamiento/s que se puede seguir en la primera consulta y de precios no tan desorbitados como en otros sitios a los que he ido. Muy contenta durante este año de tratamiento 😊
Richard G
Tras búsqueda exhaustiva de información, animado por las buenas referencias que había obtenido sobre el trabajo de la Doctora y su equipo, así como el precio que presupuestan, acudí al lugar para estudio capilar al objeto de posible injerto capilar. En su valoración en persona, la Doctora demostró su honestidad y seriedad en su trabajo al indicarme las posibilidades existentes dado que no dispongo de una zona donante abundante, prescribiéndome tratamiento médico. Tras tres meses de evolución, estoy obteniendo muy buenos resultados jamás imaginados por mí, con muchas posibilidades aún de mejora dado el poco tiempo de evolución transcurrido. En todo momento el trato de la Doctora y su equipo es excelente y cercano. Sin duda un lugar muy recomendable. Muchas gracias de corazón.
Joaquín Martínez Pretel
Hola, estoy más que satisfecho con los resultados. Han superado con creces las expectativas, venía recomendado por varios amigos y no dudaría ni un segundo en recomendarlo. Todo ha sido mucho más sencillo y rápido de lo que esperaba. Respecto al equipo solo puedo decir que, Amén de ser profesionales excelentes, me han hecho sentir en todo momento, tanto antes, durante y después de la intervención, muy bien y muy tranquilo en todo momento. Son maravillosas!!.

Únicamente me arrepiento de no haberlo hecho antes!!!
Nestor Hdez
Gracias a la profesionalidad y tesón del equipo de la Dra Vanesa Perez soy otra persona, no tengáis ninguna duda en trataros con ellos, no quiero decir más que esto: MERECIÓ LA PENA y lo volvería a hacer si lo necesitara. Mil gracias a todo el equipo !!
Santiago Ferre
Recomiendo mucho a la Doctora Pérez tanto por el cuidado que tiene al realizar el tratamiento, como la amabilidad y la experiencia que ofrece. Después de 6 meses, he notado una mejora muy favorable en cuanto a la densidad del pelo, que ya lo estaba dando por perdido. Muchas gracias por el trato ofrecido!